L10-L12 AS Series 1172
The specialist for narrow aisle and block stacking applications
The electric straddle stackers L10 - L12 AS quickly and flexibly lift pallets with closed bases and various types of small containers — even if used in narrow aisles. For this purpose, the trucks have a small turning radius. The spacing of their straddle legs can be flexibly adjusted.
The L10 AS and L12 AS accelerate freely with an AC motor. A SafetySpeed function also automatically adjusts the speed to the tilting angle of the tiller.
Lift capacity

1.0 - 1.2 tonne

Engine type

Electric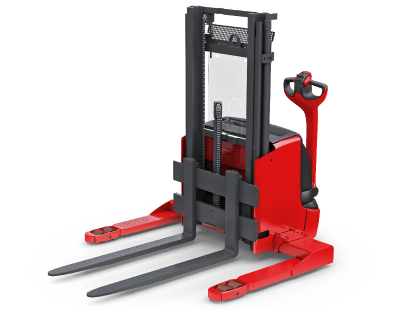 Series 1172Linde L10 - L12 AS Electric Pallet Stacker
Characteristics
Tiller head with all of the control elements surrounds the hands and protects them from injury.
Deep drawn chassis skirt also protects the operator's feet from getting under the truck.
Tiller arm is long and mounted at a low point to keep a safe distance between the operator and the machine.
When the tiller is at the top or bottom end position, the vehicle controller activates an electromagnetic brake.
Solid straddle legs improve the lateral stability of the truck.
All control elements on the tiller are ergonomically positioned and eases operation with both hands.
Creep speed button can activate when the tiller is in vertical position making manoeuvres in constricted spaces significantly easier.
Truck adjusts its speed proportionally to the tiller position which makes controlling it easier.
AC motor and precision digital control helps get the job done even in tight spaces.
Booster effect available for difficult manoeuvres, which increases the lifting speed of the truck for a short period.
OptiLift and soft landing function support the operator during load handling enabling precise lifting and lowering of the load.
Adjustable straddle arms from 900 to 1,200 and 1,350 mm.
Maintenance-free AC motor with 1.2 kW increases the availability and reduces the operating costs of the straddle stacker.
CAN bus connectivity enables all truck data to be read out on a laptop computer by the service technician making the service process easier.
Digital multifunctional display shows the most important information.
Motor and battery covers are made of strong fibreglass reinforced material and are extremely durable.
Optional Equipment
Polyurethane Drive Wheel

Various drive wheels are available, depending on the operating environment. There are wheels of polyurethane, profiled rubber and non-marking rubber, as well as wheels with wet grip material for wet floor conditions.

Alternative ISO

The ISO class carriage can be selected in multiple widths to suit different load types and straddle leg dimensions.

Tandem Load Wheel

The tandem load wheel is also available in polyurethane.

Cold Store Design to -30°C

The cold store protection guarantees full availability and performance to minus 30 degrees Celsius.