ML10 MM10 Series 1167-02
Extremely versatile
The electric pallet stackers ML10 and MM10 are extremely versatile with a load capacity of 1.0 tonne. They can be used as an ergonomic order picker platform or for transporting lighter goods. During order picking, the operator lifts their work surface to a comfortable height, which protects their back and during the transport of goods, an initial lift provides more ground clearance.
An optional additional lift provides more ground clearance giving an advantage where uneven floor and ramps are concerned.
Lift capacity

1.0 tonne

Engine type

Electric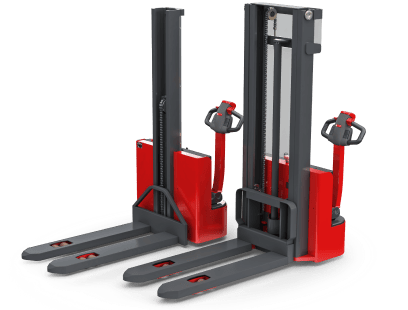 SERIES 1167-02Linde ML10 | MM10 Electric Pallet Stacker
Characteristics
Safety guards on the tiller head protect the driver's hands from injury.
The tiller arm is very long and low on the vehicle, keeping the operator at a safe working distance from the truck.
The truck brakes automatically when the operator releases the butterfly button or when the emergency button is pressed.
An effective parking brake holds the truck securely on a slope and releases automatically when the driving switch is pressed.
The metal cover pulls right down, thus protecting the operator's feet.
Before picking, the operator is able to lift the pallet to a comfortable working height which relieves the back when picking up and setting down the goods.
Moving and lifting the vehicle can be controlled easily using the ergonomically shaped tiller handle.
Both hands remain on the dual butterfly control at all times.
A belly switch on the tiller head ensures the operator can easily brake the vehicle.
Powerful electric motors guarantee a transport speed of up to 4.5 kilometres per hour.
A robust chassis and a reinforced fork structure ensures effective transportation of loads up to a total weight of t tonne.
The built-in charger allows operators to charge the vehicle anywhere so that it is quickly available again.
When the battery is fully charged, these trucks work non-stop for three hours.
A display informs the driver about operating hours and battery discharge.
Service technicians have access to all main components behind a motor flap.
Components are arranged so that only a few wires are used.
The robust DC drive motor can be used for long periods before maintenance is required, which reduces service costs.
Battery requires no maintenance at all.
Battery control ensures that the lifting function of the truck is switched off when there is only 20 percent battery capacity remaining — this discharge protection increases the service life of the battery.