Baoli ES12 Series 6139
Ergonomic and intuitive
The Baoli ES12-104 is a 1.2 tonne capacity electric walkie stacker that incorporates a package of features designed to meet the needs of the economy segment of the Australian market. Manufactured in a state-of-the art facility it is built to deliver long-term reliability and performance. The ES12-104 has a battery discharge indicator and hour meter to remind you when the battery needs to be recharged. As well as its standard feature package: a triplex mast, cold storage protection and safety orange coloured paint are available as options.
Lift capacity

1.2 tonne

Engine Type

Electric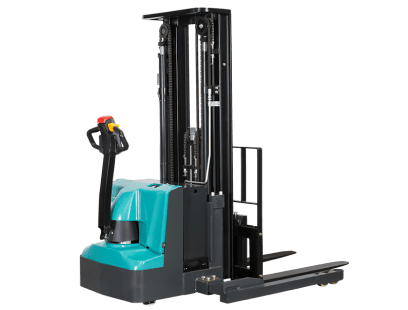 Series 6139 Baoli ES12 Electric Walkie Stacker
Characteristics
A safe hydraulic system that prevents the mast from dropping abruptly in case of any sudden loss of hydraulic pressure.
Advanced anti-roll back system keeps the load steady on slopes and avoids rolling back when starting or stopping.
Standard "Lift Limit" and "Speed Control" feature ensures safe operation when there is an overhead obstruction, and will reduce the truck's speed automatically when the load is above ground level.
Centrally mounted tiller is designed so that the distance between the operator and the truck allows the operator to have an excellent view of the fork tips or load while protecting the operator's feet.
Easy and comfortable to use tiller control handle with fingertip lift/lower buttons and thumbwheel forward/reverse lever.
Advanced AC technology offers a robust motor for smooth and progressive control at all times.
Vertical gearbox configuration delivers outstanding strength to its structure, providing increased lifespan benefits.
Designed to help operators achieve consistently high and efficient work rates from clever tiller and control handle design, to battery change simplicity and the smooth and progressive delivery of power and control through the AC motor.
Baoli provides quality material handling that's reliable, easy to operate and easy to service.
All components are guaranteed by KION Group and backed by the national service and support network of Linde Material Handling Australia.
A hinged service door allows easy access to key components when access is required for quick inspection, maintenance or replacement.
The battery which powers its maintenance-free AC motor has a convenient battery roller system for easy battery exchange.
An innovative heat-releasing system powered by an electric fan prevents ER15 internal components from overheating, thus enabling longer uninterrupted operational hours to boost productivity.
Cold store protection

Tyres

Weight scale