W04 Series 1193
Slender design for safe working
Linde's W04 platform truck has a slender design for safe working and tight turning in narrow aisles and tight spaces. The W04 can pull a maximum load of up to 400 kilograms.
Tow capacity

0.4 tonne

Engine type

Electric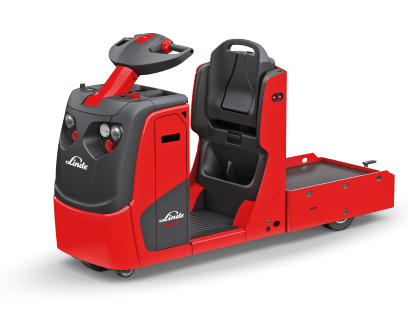 Series 1193Linde W04 Electric Tow Tractor
Characteristics
Despite the compact, narrow chassis, the operator is still protected while driving and always remains within the rounded confines of the truck.
The two-handled ergonomic steering unit prevents wide-sweeping steering movements and also protects the hands.
An automatic parking brake prevents accidental rolling.
The height-adjustment feature of the seat allows the operator to fold the seat down and continue to drive comfortably over long distances in a seated position.
The height of the steering unit can be adjusted to make the operation easier.
A low step makes it easy to get in and out of the truck.
Large storage compartments located on top of the battery cover and under the seat allow the driver to have their tools close at hand.
Wide handle bar reduces steering effort.
Backrest with side support.
Knee protection pad.
Precise, direct and responsive steering.
Maximum manoeuvrability due to turning radius 1,100 mm.
Towing attachment control for easy coupling and decoupling.
Coupling is always in excellent view of operator.
Manual wire guided hook can be operated without leaving operator's platform.
To check the central data of the truck, the service technician does not have to open any kind of cover as the W04 uses the CAN bus system to connect to a laptop, this allows the technician to precisely match the data obtained with the appropriate application.
All relevant truck components can be accessed quickly and easily.
The AC motor is dust and water resistant and maintenance free, reducing the amount of time and energy spent on service.