P30C-P50C Series 1189
Tow comfortably in tight spaces
The P30C-P50C tow tractors are compact, comfortable and reliable. Their size makes them particularly suited for towing in narrow aisles and the unique suspended "u" shaped platform with adjustable seat, console and steering wheel delivers operator comfort.
up to 5 tonnes safely with the P30C-P50C range, thanks to the automatic electric brakes and automatic speed reduction feature when cornering.
Tow capacity

3.0 - 5.0 tonne

Engine type

Electric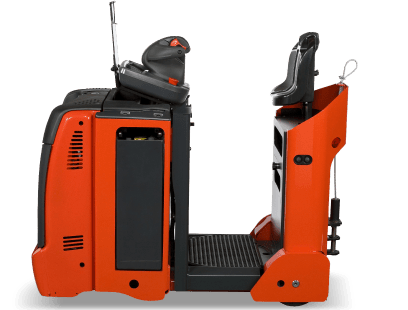 Series 1189Linde P30C - P50C Electric Tow Tractor
Characteristics
Tractor design keeps the operator within the truck contours while driving.

The wrap-around hand guard and front bumper protects the operator and truck.

Automatic speed reduction enabled when cornering.

Automatic electric braking and electromagnetic emergency brake.
Unique cushioned and fully-suspended "u" platform design offers excellent operator comfort.

Adjustable seat, console and twin grip steering control for customised workstation.

Wide platform access and low stepping height.
Power assisted steering with variable steering resistance.

Positive steering (drive wheel) feedback.

Manually operated hook with pull cable (300mm).

Cushion rubber drive and load wheels.
CAN bus technology allows service technicians to diagnose remotely and adjust performance parameters to suit individual application needs.

Easily accessible components and maintenance free AC motors for fast service times.

Service intervals of 1,000 operating hours for reduced downtime.
Single position hook (300mm) or 3 positions tow hook 290/345/400mm
Front and rear working light (LED)
Flashing beacon
Alternative Drive Wheels (DW) and Load Wheels (LW)

Cushion rubber DW and LW (Standard)
Polyurethane DW and cushion rubber LW
Non marking cushion rubber DW and LW
Wet grip DW and cushion rubber LW

Fixed battery stand for 1 or 2 batteries
External chargers for all battery sizes