T20-T25 AP Series 131
Perfect ergonomics, quick work processes
The T20 - T25 AP/SP pallet trucks offer tailored ergonomic working conditions for the operator. Linde's basic concept is flexible. In the AP model, the operator can move the standing platform up and fold down the steering tiller. The platform truck changes into a full-service pedestrian model as needed. In contrast, the SP mode has a fixed standing platform.
The truck has an e-driver controller from Linde, with which the operator stands at a right angle to the direction of travel and can see both forward and backward. Many manoeuvres can be done much easier and more quickly. The pallet trucks have a lifting capacity of 2.0 or 2.5 tonnes depending on the model. Lithium-ION batteries are also available.
Capacity

2.0 - 2.5 tonne

Engine type

Electric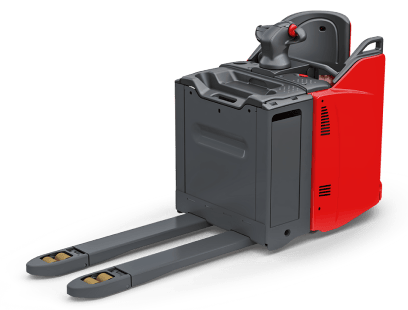 Series 131T20-T25 AP | SP
Characteristics
Solid steel skirt reaches the floor to absorb slight impacts and protects the operator's body.
Compact design of the steering unit ensures that the operator always stays inside the solid body of the truck when driving.
Both models have three independent braking systems ensuring the safety of the operator and the load in every driving situation. If the operator takes their hand off of the drive switch, the electromagnetic braking system activates automatically. The same applies if the dead-man switch is released or the emergency stop activated.
In the SP model, the driver stands at a right angle to the fork direction, about 45 degrees, therefore making it easier for them to see around them and not necessary to twist their body when reversing and placing strain upon it.
Padded backrest offers additional comfort.
Standing platform is heavily padded, this helps the operator not have to sway on uneven ground, providing important protection from physical strain.
In both models, the operator benefits from precise power steering which can be operated without straining.
Deep storage compartments for packing paper, writing implements and other work materials.
Maximum speed of 12 kilometres per hour with and without loads and can also manage a gradient of up to 13%. Interplay of the 3kW AC motor and active support wheels enable the truck to accelerate quickly and powerfully.
Hydraulic suspension of the wheels adapts to the load, driving situation and speed and ensures consistent stability and traction.
Hill hold system ensures that the truck does not roll backwards when it is on a gradient.
The Linde e-driver controller is important for increasing handling performance in the SP version.
Compact steering wheel contains all of the controls and can be quickly operated with the left or right hand.
CAN bus connectivity enables all truck data to be read out on a laptop computer by the service technician making the service process easier.
All truck components can be reached quickly.
AC motor is maintenance-free.
Rugged construction ensures that the truck can withstand tough, continuous use and only has to be serviced occasionally.
Each fork carries up to 2 tonnes without bending.