E20-E25 B Series 1293
Performance indoor and out
The Linde E20-E25 B Series 1293 is the electric counterbalance truck with improved performance and endurance.
This electric forklift is available with either a lead-acid battery or Lithium-ION power source, and can be used both indoors and outdoors, making it perfect for a range of different industries. With the integration of the Linde Digital Controller, the E20-E25 B can easily switch between three power settings to meet different working conditions.
Its maintenance-free AC motor, versatile components and easy access design reduce the service and repair time on this truck so that the truck is back to work sooner.
Lift capacity

2.0-2.5 tonne

Engine type

Electric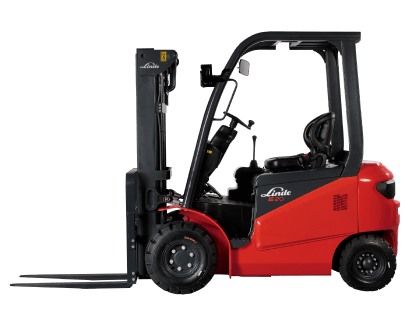 Series 1293Linde E20 - E25 B Electric Forklift
Characteristics
Slim mast offers superior visibility.
Seat safety switch and easy touch emergency button.
Low battery position for lower centre of gravity and better stability.
Adjustable steering column for customisable workspace.
Low noise emission reduces hearing strain for workers.
Centrally located lever and smaller steering wheel reduces fatigue.
Comfortable wrap-in seat.
With the Linde Digital Controller, the driver can choose from three power settings on the display to meet different work conditions.
The electric motors provide exceptionally dynamic acceleration, which contributes to outstanding handling performance.
Maintenance space reserved by the drive motor and main harness stored under the driver seat.
Easy maintenance due to modular design, simple battery access and versatile parts.
Twin pedal
SE tyres
Integrated side shifter
Hook-on side shifter
Additional hydraulic circuits for attachments
Flashing beacon
Visual Warning Systems such as Linde BlueSpot™ and Linde TruckSpot