T20S Series 1154
Manoeuvrability even in tight spaces
The T20S pallet truck features a precise electrical steering unit and specially designed narrow chassis for perfect manoeuvrability. Only slightly wider than an actual pallet, the truck handles with ease even in confined spaces, and has a lift capacity of 2.0 tonnes.
The truck's control platform is isolated from the chassis to absorb vibrations and reduce fatigue from driving on uneven surfaces. Drivers operate the truck from an elevated standing position, so they maintain optimal visibility of the forks and load.
The T20 S pallet truck also offers a variety of safety features, including a dead man switch that triggers the brake, and automatic speed reduction when cornering.
Capacity

2.0 tonne

Engine type

Electric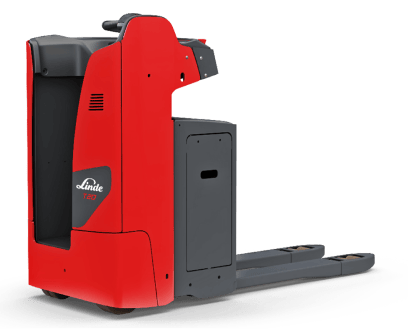 Series 1154Linde T20S Electric Pallet Truck
Characteristics
Rugged and compact chassis with protective truck contours.
Dead-man switch with load-dependent electromagnetic brake.
Standing position and compact chassis offer optimal view of the forks.
Automatic speed adjustment around corners.
Low-vibration platform isolated from chassis.
Padded backrest for comfort.
Ergonomic and height-adjustable control unit.
Effortless operation with left or right hand.
Powerful 3 kW three-phase motor with a 12km/h max speed.
Alternative steering systems.
Narrow chassis enhances manoeuvrability.
Joystick controls for precise movement.
CAN bus system protects electronics.
Easy access to relevant components.
Maintenance-free motor is protected from dust, reducing service and repair time.
A rugged chassis and specially designed fork tips enter the pallet smoothly to provide stability and durability to the truck.
Optional Equipment
Linde Fleet Management

Linde's fleet management system, FleetFOCUS, can be used to manage your truck fleet. From maintenance scheduling to documentation of the maintenance and repair history, through to access control.

Warning Light

Located on a grab handle on the right of the truck, the warning light warns pedestrians and other trucks of the approaching pallet truck.

Access Control

The access control in the Linde fleet management system informs the fleet manager who is currently at the controls. The driver must identify themselves using a PIN or a RFID card before they can start the truck.

Left side grab handle

Terminals, scanners, clipboards, writing implements, and individual extensions can be mounted on the rod.

Clipboard

Always have an eye on the job: The easily visible clipboard makes order picking and transport processes easier.

Levelling

The system compensates for unevenness in the floor and ensures that all four wheels are always in contact with the ground. This improves truck stability.