T20 - 25 RW Series 1154
Fast, comfortable and versatile
The Linde T20-T25 RW pallet truck delivers top speeds of 12 kilometres per hour thanks to its high-performance 3-kW three-phase motor. Even with a full load of 2.5 tonnes, it still easily maintains 10 kilometres per hour.
Featuring a spacious 970mm wide chassis and a raised, comfortable seat, this pallet truck always gives operators the best possible visibility of the warehouse environment, both in front and behind.

Especially handy for quick pallet transfers, the T20-T25 RW pallet truck allows drivers to precisely control loading and unloading of pallets with their fingertips using the intuitively designed controls. Whilst three independent braking systems with automatic speed reduction ensure the driver, truck and goods remain safe at all times.
Capacity

2.0 - 2.5 tonne

Engine type

Electric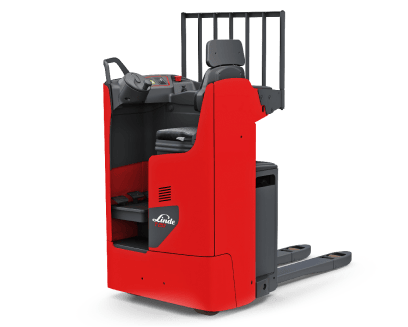 Series 1154Linde T20 - T25 RW Electric Pallet Truck
Characteristics
970mm wide chassis and four-point support ensures truck stability.

Three independent braking systems with automatic speed reduction when cornering.

Raised, lateral seat position ensures optimum visibility.
Spacious chassis with adjustable seat height, foot platform and backrest.

Compact steering wheel and controls integrated into console with effortless, precise fingertip control.

Optional seat heating for additional comfort.
High-performance 3-kW drive motor with 12 kilometre per hour top speed.

Four-point support guarantees safe load handling and stability.

Precise, intuitive fingertip controls.

Operator's have the option to simultaneously use the console and pedals to enhance efficiency.

Multifunctional display keeps you informed of errors, charge status and operating hours.
Robust construction requires low maintenance.

Easily accessible internal components with wiring harnesses and cables clearly arranged allow for quick servicing.

CAN bus connection for convenient mobile servicing.
Optional Equipment
Front LEDs

Two water and dust proof bright LED headlights are located at the front.

Load Backrest

The load backrest with a height of 1,613mm or 1,919mm ensures loads can't slip backwards and fall on the driver when the load carrier is raised.

Leather Seat and Seat Heating

Adjustable seat heating is perfect to increase driver comfort, particularly when working in cold storage or cold environments.

Additional Head Supports

The seat of the low lift pallet truck can be fitted with a head support in order to take the strain off the driver's neck during continuous operation.