N20-N25 C HP Series 4587
Manoeuvrable and ergonomic with standard design
The Linde N20–N25 C low-lift order pickers are all-rounders in the warehouse thanks to their high loading capacity and dynamic driving characteristics. The long forks allow up to three pallets or four roll cages weighing up to 2.0 or 2.5 tonnes to be picked up simultaneously.
The classic construction offers a clear all-round view and allows flexible manoeuvring even in narrow warehouses using an intuitive steering wheel. With the aid of the 3 kW AC motor, the order picker accelerates up to 14 km/h. Maximum safety is ensured by the robust design and automatic speed adjustment. Special attention is paid to ergonomics: from low access to a cushioned platform as standard and a gentle backrest, the order picker relieves the operator of physical strain thus helping them to work more efficiently.
Lift capacity

2.0 - 2.5 tonne

Engine type

Electric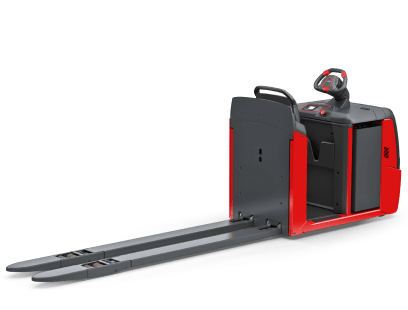 Series 4587N20 - N25 C (HP)
Characteristics
All edges of the robust steel chassis are rounded.
Battery is integrated into the service space in front of the operator platform. This prevents the operator from being hit directly in the event of a collision.
Linde steering wheel centres itself when operating straight. It only needs to be moved slightly to steer, keeping the operator within the contour of the vehicle.
Speed is automatically reduced when turning a corner.
Three separate systems ensure safe braking: the electromagnetic service brake, a hydraulically assisted braking system proportional to the load weight, and Linde brake control, which automatically brakes when the drive is released.
Many options are also available for maximum safety, such as a bumper, load backrests, front LEDs, and Linde BlueSpot.
The low-level order pickers have a particularly low entry height of only 13cm, which makes frequent entry and exit easier.
Wide, u-shaped design also allows for access on both sides.
Linde steering wheel and backrest are height-adjustable for a ride that is easy on the back.
Cushioned platform reduces vibrations caused by uneven road surfaces and a non-slip rubber pad additionally improves the operator's standing position.
3kW AC motor quickly accelerates to a top speed of up to 14 km/h with or without load.
Linde steering wheel enables the intuitive execution of important operating functions and is easy to control. When operating straight, the automatic centering ensures shorter distances between two picking positions.
Initial lift allows transport over ramps and uneven surfaces.
Liftable operator's platform is available as an option for first and second level picking (except N25 C HP).
Multifunctional display informs the operator of the status of the vehicle.
Linde on-board charger reduces the handling effort during loading.
Many storage compartments ensure the operator always has their documents at hand from all positions.
Videos & images