L-MATIC Series 133
Effective Load Handling for Low Lift Heights
The Linde Material Handling L-Matic pallet stacker is suitable for storage or removals at low level. It tackles loads of up to 1.2 tonnes and lifts heights up to 1.9 metres.
With the infrastructure-free geo-navigation, the L-Matic can be used flexibly as an individual truck or as part of an automated fleet. When operating in this manner, the robotic forklift is able to integrate safely and efficiently with people, non-automated trucks or the customer's infrastructure such as belt conveyors or packing stations. Manual operation is possible at any time, for example, moving equipment away from a dangerous zone quickly in the event of an emergency, or using the truck to carry out another short-term task.
Lift capacity

1.2 tonne

Engine type

Electric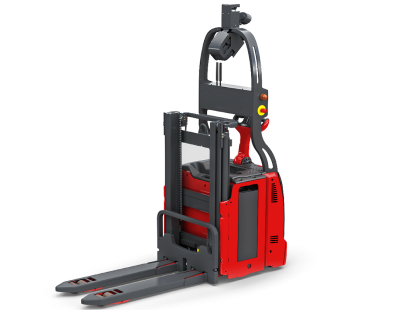 Series 133Linde L-Matic Electric Automated Truck
Characteristics
Laser optics and camera scanning enable the recognition of people, other trucks, and obstacles ensuring that collisions are reliably avoided.
System adapts to the zones being monitored and adjusts travel speed and steering angle.
Emergency stop buttons, various acoustic and visual warning signals are built in.
Connection to the customer's warehouse management or ERP systems makes communication with other automated systems such as gates or roller tracks easy and simple.
System works out the best possible allocation of travel tasks and routing.
Safety technology automatically resumes the work process when people or other obstacles are no longer present in the zone under observation.
Operator only needs to take hold of the control tiller to switch over to manual use.
Electronic and mechanical components are easily accessible.
Maintenance free AC motor contributes to the high level of availability of the truck.
All truck data relevant for maintenance of the L-Matic can be read out using a service laptop.
Option of installing a remote diagnostics system is available.
Optional Equipment
Barcode Reader

The truck can be equipped with a bar code reader that allows data to be fed directly into a goods management system from the load.

Linde BlueSpot™

The Linde BlueSpot™ is an optical warning solution that emits a light signal to indicate that the truck is approaching.

Load Positioning

The L-MATIC pallet stacker can be fitted with sensors for monitoring the pallet position.

2D Curtain Laser

Side-facing 2D curtain lasers improve operational safety when in use in areas frequented by other trucks and people.

Additional Horn

The L-MATIC can be provided with an extra horn. This makes the pallet stacker easier to hear in particularly noisy environments.