C-Matic
An automated transporter
The autonomously controlled C-Matic has a capacity of 600kg-1 tonne. It features a durable solid aluminum casting structure and all in one construction design. The suspended chassis improves the traction and drive force, providing the robot with stability and consistent productivity.
Lift capacity

1.0 tonne

Engine type

Electric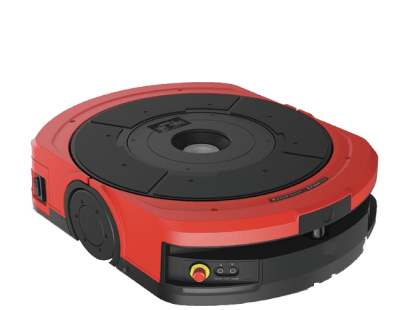 Linde C-Matic 06 - 10 Robotic Turtle Mover
Characteristics
360 degree all round safety protection.
Laser scanner for front safety detection.
Front and rear emergency stop buttons provide a secondary level of safety.
The robot prioritises forward travel however reverse travel can be achieved should the application environment meet certain safety criteria.
Accurate and reliable laser reflector navigation system.
High precision inertial measurement unit (IMU) module.
The drive unit can achieve a maximum forward travel speed of 1.5m/s.
The independent lifting and steering can move simultaneously, reducing waiting time and improving efficiency.
The dual wheels differential drive can achieve point rotating, curve turning and U shape turning.
The load can stay static during turning with help from the steering unit, this greatly reduces turning radius and aisle width, minimising infrastructure changes.
User interface includes indicator lights, switch operation, touch screen, app remote control, vehicle status/alarm indicator, real-time task management, basic parameter setting and fault diagnosis.
The C-MATIC supports multiple communication protocol interfaces.
Dynamic path planning helps the C-MATIC avoid traffic jams caused by hot spots or disabled AMRs.
An efficient design incorporates a differential drive, electrical linkage lifting, point rotation steering and a suspended chassis.
The AGV housing is easy to disassemble.
The component layout is maintenance friendly.
The modular electrical system is simple to troubleshoot and repair.
The robot charges automatically.
Videos & images